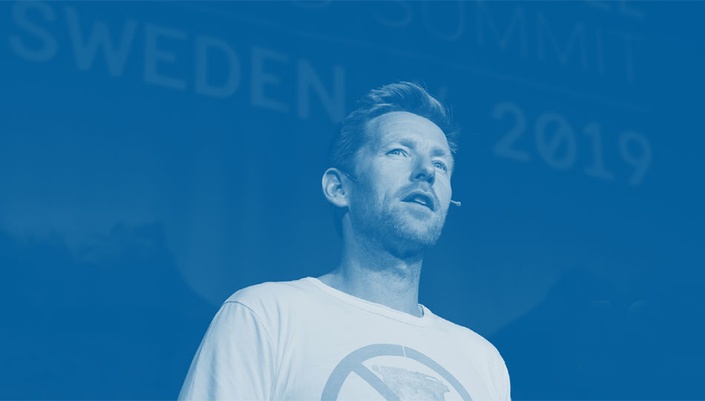 Adventure Travel World Summit 2019
Omtanke, The Way Forward
Join the ranks of your industry colleagues who are learning, being inspired, and setting the course for adventure travel. Digital Access to the Adventure Travel World Summit brings the keynotes from this year's Summit to adventure travel companies around the globe.
Course Content
Frontiers of Tourism
As we embark on the first communal gathering here at the 2019 Adventure Travel World Summit in Sweden, we reflect on the theme Omtanke and ask ourselves: What is the way forward for adventure travel, for smart travel, for tourism that serves all of humanity and provides a healthy ecosystem for the future of travel? There have been pioneers in our past that have catapulted us forward, and there are always roadblocks to progression. How do we, as a collective alliance of businesses, governments, media and individuals invested in an industry that reaches so many places and inhabitants of the earth shift global expectations and become the change makers for a better tourism model?
One way is to take a deep dive into the adventure experience and re-examine the fundamental role of perception in travel. Leaning on neuroscience, Professor of Neuroscience and Lab of Misfits CEO, Dr. Beau Lotto will reveal the depths of the adventure travel experience and the transformational ways in which it shapes us and our relationships with others. A leading neuroscientist will take us on a journey through the emotions and perceptual responses triggered by adventure travel by demonstrating experiments conducted in the field.
Coinciding with this neuroscientific experience of travel comes the technological and sustainability advancements of our siblings in the outdoor gear and apparel industries. Here to share innovations, a leading outdoor entrepreneur will demonstrate how the human experience of destinations, nature, and activities are shifting and where the travel industry overlaps seamlessly with new products and ideas born from passionate recreationalists and innovative businesses.
BEAU LOTTO
Professor & CEO, Lab of Misfits

STEFAN YTTERBORN
Founder & CEO, CAKE
Graze
Food is one of the core soul experiences of travel. In this plenary session, we consider experiences with food in nature, what is truly "local", agriculture's effect on climate change, and last but certainly not least, creativity — all of which build an often unseen but critical component of the adventure traveler's experience. Through a series of presentations about food and innovation, culinary thought leaders will challenge and inspire ATWS delegates to rethink the way food is experienced by travelers, how it is woven into the social and environmental fabric of communities and tourism entities, bringing the local mindset to a global scale.
Working with food in a thoughtful, sustainable and creative way can propel growth for businesses, destinations, and communities. In the latter half of this plenary, Visit Sweden will share how taking the best of what you have and transforming it into something inviting and sustainable can increase the impact of the travelers' experience.
JOOST BAKKER
AMI HOVSTADIUS
Senior Consultant, Ami Hovstadius AB
2019 Adventure in Motion Film Contest
LOLA AKINMADE ÅKERSTRÖM
Author + Photographer, Geotraveler Media
Changemakers
What the world needs are travelers willing to learn and be shaped by the experiences they have every day. To be inspired on a transformative level while traveling teaches a person how to interact with nature and other human beings with compassion and consideration – both abroad and at home.
At the World Travel and Tourism Conference in April of this year, Former US President Barack Obama said. "Young people are innovative, smart, creative, idealistic, and ready to go. They understand, instinctively, that this is one world…National boundaries and ethnic and religious differences don't prevent them from learning from and collaborating with other people." There is a generational paradigm-shift that is occurring across many industries, and how that affects the fabric of the travel community, both on the consumer level and the professional level, is unfolding incrementally and quietly. But if we are to cultivate effective leaders for tomorrow's travel community, the way forward is to begin by cultivating a landscape of values in which our positive impacts outweigh our negative ones. Through this lens of our industry's customers, entrepreneurs, employees, and partners, a young thought leader will share the most important values for the adventure travel community to embrace in order to shape–not react to–the traveler of tomorrow.
With a poetic interlude from Frej Haar, the 2017 Swedish and European slam poet champion, this session will inspire delegates to embrace the energy and belief systems of our youth in order to cultivate the adventure travelers and travel leaders of tomorrow.
SEVERN CULLIS-SUZUKI
Cultural & Environmental Activist
FREJ HAAR
Spoken Word Poet
The Looking Glass
As the 2019 Adventure Travel World Summit comes to a close, we reflect on learnings and seek clarity on how to simultaneously reset and accelerate commitments to solving global crises. The tourism industry can be a problem, but it is also the solution. In the final moments of last year's gathering in Tuscany, the ATTA's CEO Shannon Stowell challenged the ATTA community to take specific measures in business endeavors and through communication channels to alter consumer behavior around the world. This year, to sum up what Omtanke: The Way Forward means for adventure tourism, he brings powerful clarity to a global movement by demonstrating the regenerative capability of adventure tourism.
SHANNON STOWELL
CEO, Adventure Travel Trade Association (ATTA)
TALEB RIFAI Former Secretary-General of the United Nations' World Tourism Organization
Frequently Asked Questions
How long can I access the sessions in the Digital Access Pass?
How does lifetime access sound? After purchasing, you have unlimited access to the 2019 Summit Digital Access Pass for as long as you like - across any and all devices you own.
I attended the Summit. Is there a discount?
Yes. 2019 Summit delegates receive Digital Access for free. Please contact us at
[email protected]
to receive your coupon code.
Is there a membership discount?
Can I watch with a coworker?
Summit education is designed for you and your company to thrive, learn and grow. As such, please do watch with your coworkers within your organization. Consider a Friday Summit Day, and then after watching, dialoging about ideas or tips that your company could implement.